I have long held an obsession over maps. I enjoy reading them as much as I enjoying reading a good novel. In fact, my love of maps is so dorky that (a) in college, I decorated the walls of my dorm with topo maps of Colorado's backcountry, and (b) I also insisted on having a blue topo backdrop as part of the branding for Headwaters Content.
So, needless to say, my obsession with maps means that Google Maps gets a lot of visits from me. So I was particularly intrigued to get an invite to test its newest version a few weeks ago. By and large, it is more visually arresting, but it has several flaws. Here are the pros and cons for the everyman (i.e. those of you not lining up for Google Glass).
Pros
Better Visual Presentation – Google Maps has always been clunky with the way it looks, a fact that didn't bother me because of the platform's solid functionality and unrivaled data. But if there is a headline for this new iteration, it is that Google Maps has gotten a lot prettier, and less functional. More on that second part in a moment…
Nothing is more important in a map than clarity, and the new cartography — with easier-to-read streets and landmarks — makes the experience more inviting. The filmstrip of photos along the bottom, and quick snapshots of Streetview within the "info card," make this version of Google Maps endlessly entertaining. I could poke around for hours.
Other things to like …
Getting from Point A to Point B has a lot more options, including flight integration, and better presentation of bike routes (particularly handy for planning a bike-oriented vacation)
Click on a spot, instant Streetview. This is especially cool for some of the newer applications of Streetview, such as ski resorts, where they have used their 360-cameras on ski runs at a handful of popular resorts. (In working with Aspen-Snowmass, I've been eager to find new ways to integrate Google Maps and Streetview into their site's on-page content.)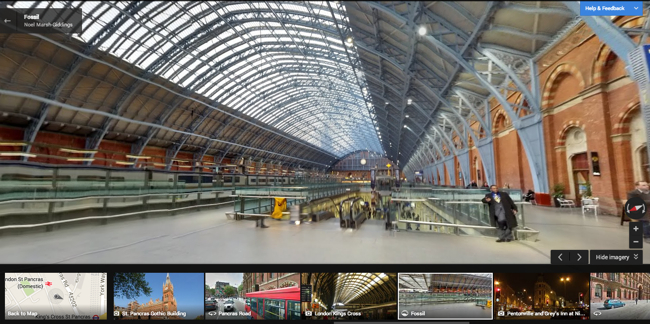 And finally, the abundance of 360-degree photo spheres will allow you to get inside of places where Streetview hasn't been, such as transit hubs.
Cons
Flawed Search Results – Far too many times with this new update, I'm left without answers while doing searches. Google is steering far too many searches toward advertiser-centric results.
Of course they are.
For instance, a simple search for "U.S. Capitol, Washington DC" first yielded "Capitol Associates," a lobbying firm located a few blocks from the Capitol. I was also presented via autofill with "U.S. Capitol Visitors Center" and "U.S. Capitol, Capitol Driveway Northwest, Washington, DC," neither of which offered search results for the official U.S. Capitol page or Wikipedia page (although the Visitor Center Site did come up). For more info, it took me to the Capitol's Google Plus page, with reviews. It ranks as a 4.4 out of 5, but on what scale I'm not sure. (And here I thought Congress had an approval rating of 4.4 percent).
Anyhow, the trend to turn Google Maps into a social network is troubling, and not just because I don't have many friends. But rather, from a curation standpoint, it is unreliable — which ought to be a death knell for any map platform, don't you think?
The best example of this is the map for Aspen, Colorado. If you want to find Maroon Peak, you are presented with so many variations on its location because of where Google users have placed it. It's downtown, on a lake, in Woody Creek… It gets worse with a search for "Grand Tetons," and embarrassingly worse with "Arkansas River, CO," a query that plops you in the middle of Little River, Oklahoma with related links for Little River County Solid Waste and Campus Embroidery & Letter Co. (At least we have a photo of "Grandpa's House" in the photo strip at the bottom).
Considering what an enormous attraction the Arkansas River is for visitors to Colorado, this is a pretty pathetic. (Note: A search for "Arkansas River, Colorado" yields more relevant results, but all of them advertiser centric).
The irrelevant search results happen in far too many travel-related scenarios, and its not just confined to natural features. When I did a search for "Boonville, CA" and then selected their related link for "places to stay," it zoomed out and showed hotels in Ukiah, some 40 minutes away (not even mentioning the B&Bs in the valley or the cult-favorite Boonville Hotel right in town).
At this point, I might be piling on, but these scenarios are happening enough to make the new Google Maps less reliable than before.
The Takeaway
The lines between search and social strategies have been blurring for years, but this may be the biggest shove we've seen from Google. Unfortunately for Google Maps, it is at the cost of reliability. I'd recommend Google Maps for point A to point B navigating, for seeing what a place looks like, and for utilizing Streetview and Google Earth. The amount of applications this data has on planning your travel or feeding your curiosity are endless.
I just wouldn't use it as a search engine … unless you need a lobbying firm that can show you how to navigate the U.S. Capitol.