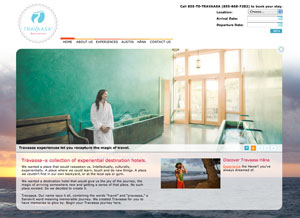 Content strategy and SEO development for a boutique hotel group
We think Travaasa Destinations is on to something: create a boutique hotel group where the emphasis is on authentic, local experiences. Throw-net fishing off the Maui coast? Harmonica lessons in the Texas Hill Country? These aren't your standard "hotel amenities," and we think that's cool.
Carving out an effective content strategy to entice visitors to their two properties — the Travaasa Austin and the Hotel Hana Maui, now known as the Travaasa Hana — is an essential but difficult task for launching their brand. After all, when was the last time you did a search for "harmonica lesson hotels?"
So Travaasa Destinations turned to our collaborative partner agency Turner PR to help raise their web marketing profile — and Turner PR turned to us to develop the website's content.
With an eye on increased site performance, we diagnosed 21 areas where we could improve Travaasa's messaging: on-page content, title tags, linking conventions and even navigational path issues.
The results astonished us.
Within the first month of our content changes going live, their website saw a 99% increase in organic referrals from Google (month-over-month). The changes were even outgunning the old Hotel Hana Maui website year-over-year by 30%. Page consumption — a key measure of whether the site's page content is engaging — doubled over the previous year.
While many SEO-focused agencies will drill into thousands of keyword options, we create compelling, engaging content seasoned with a handful of targeted keywords and phrases. It's an approach that clearly works.