When TV providers and networks can't agree to terms, they drop channels.
When they drop channels, they create microsites.
When they create microsites, they open themselves to scorn.
Last week, I popped on the TV at the end of the day and went to retrieve the latest Colbert Report from my DVR queue. Nothing. Hmm, that guy goes on a lot of vacations, I thought. Lucky bastard.
But then as I trolled my guide, I noticed that Channel 249 — Comedy Central on DirecTV out here in Denver — was gone. As it turns out, so was Nickelodeon, MTV, BET, Spike, CMT and some 18 other worthless channels I never watch (broken content on TV channels is a whole other topic for a whole other day).
Now I know "victim" is a strong word, but I'll go ahead and use it because I'm an American and this is my TV we're talking about. Turns out, I'm a victim of a pissing match between DirecTV and Viacom.
After a phone call to DirecTV to complain (this always works with corporate goliaths), two microsites with blatantly bad content emerged: Viacom's WhenDirecTVDrops.com and DirecTV's corporate-values-poster URL DirecTVPromise.com. So I guess this is my Tip of the Hat, Wag of the Finger on how to do content online.
WhenDirecTVDrops.com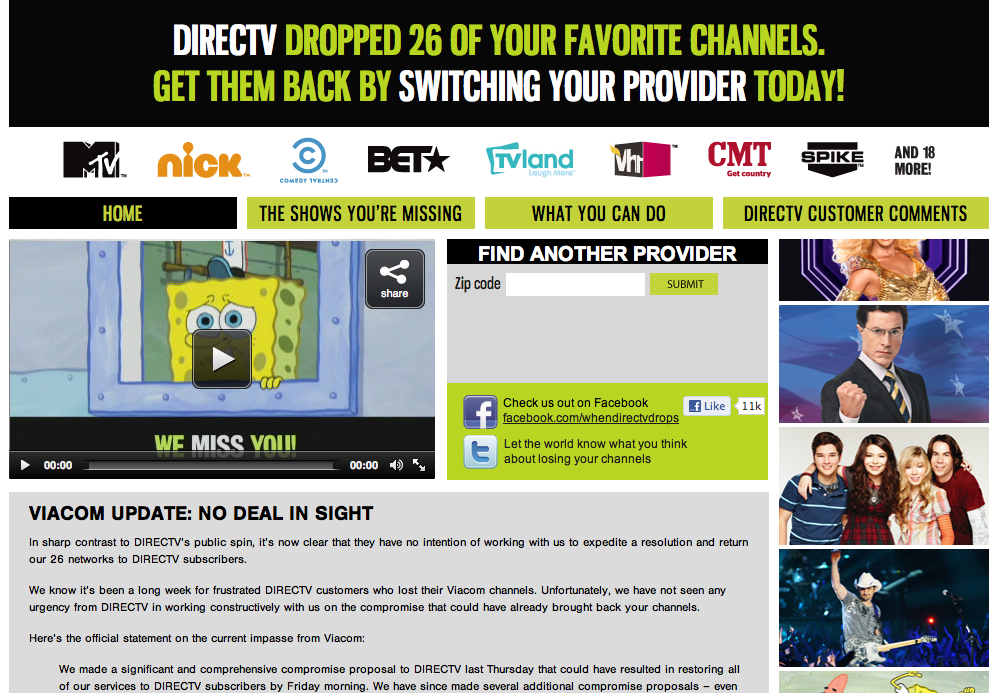 Viacom's goal is pretty obvious from the start. They want to bludgeon their TV viewing audience into submission. This begins with a screaming headline about the nonsensical bullies at DirecTV and a slippery little video of Snooki, SpongeBob and Stephen Colbert being depressed about the situation.
A text box entitled Viacom Update: No Deal in Sight tap-dances around the situation, saying "we compromised" and "DirecTV is showing no urgency" and is "purposefully and indefinitely" depriving its customers of Viacom channels. Sounds like a winning business plan from DirecTV. I'm convinced!
How about you tell me this Viacom: what's the issue? Why are you two doing this?
Their solution is to simply switch providers and bitch about it via social media. Of course, the latter tactic works, but the former could not be any more inconvenient. Like switching providers is as easy as switching the channel from QVC to C-Span (by the way, why are they never in a dispute with DirecTV?).
DirecTVPromise.com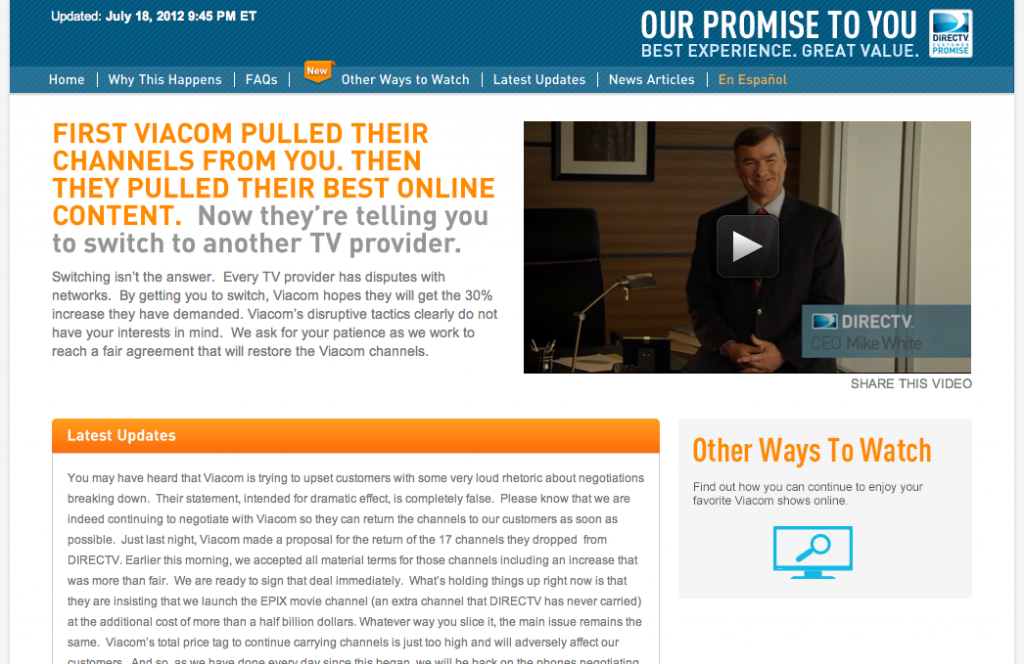 DirecTV takes another tact, and its about as sincere as a congressman running for office.  First thing I notice is the suit with the phony smile who wants to tell me something. I'm guessing he's the CEO. Yep, he is. I love having them talk to me from the heart.
I also notice the orange text blaming Viacom for being a bully, and the bold headline proclaiming Our Promise to You: Best Experience, Great Value. That's hilarious considering one of maybe 5 shows I watch is not available right now.
But here's where DirecTV wins. To their credit, they actually answer the simplest question, and they answer it well. Navigation labeled Why This Happens lead you to a text page that details Viacom's demands and tactics. DirecTV is clearly playing the blame game just as much, but at least they don't insult our intelligence by glossing over the details. Although, one look at this page, and my first thought is "would it kill you to whip up an infographic?"
Finally, DirecTV also wins because they point the way toward watching Viacom  programming online. So I caught the opening segment of The Colbert Report on colbertnation.com … after watching that damn Viacom ad again. Oh well, it's 15 seconds of my life. Beats waiting for cable and dying my own eyebrows.